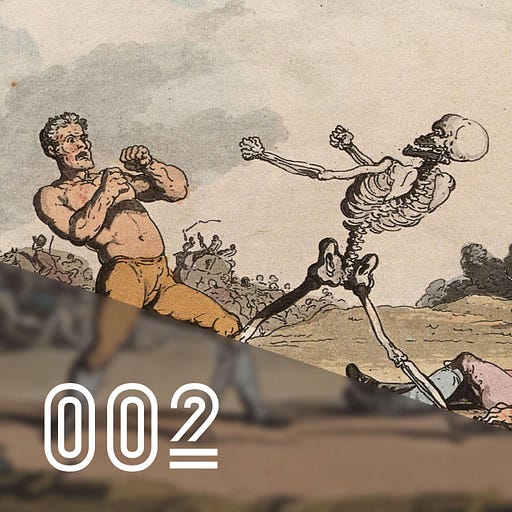 Nov 12, 2022 • 43M
002 — Qu'est-ce qui reste?
Épisode Beta — Chaque année, plus de 50 millions de personnes meurent, et la grande majorité ne laisseront aucune trace de leurs idées. C'est une tragédie.
Full Stack Banana est un nouveau podcast de conversations nourrissantes au carrefour de la philosophie et de la culture contemporaine. Au fil de réflexions parfois existentialistes mais absolument relax, on s'efforce de bâtir un modèle d'échafaudage pour la vie moderne.
Le thème central est superficiellement celui d'héritage, mais pas au sens monétaire. Chaque année, plus de 50 millions de personnes meurent, et la grande majorité ne laisseront aucune trace de leurs idées. C'est une tragédie. Préserver les héritages personnels a de la valeur pour les personnes dont l'héritage est préservé, pour les personnes qui ont accès à ces héritages et pour nous tous : une compréhension plus claire de l'humanité, de ses valeurs et de ses expériences.
---
Qu'est-ce qu'on laisse derrière?
L'idée de laisser quelque chose 'derrière' est, dans notre société, habituellement traité sous l'angle monétaire, parce que c'est la façon dont avons été conditionnés à réfléchir.
Par exemple, cherchez n'importe quel personnage public sur Google et on vous proposera invariablement le suffixe "net worth" parce que Google présume que vous voulez savoir la valeur financière de la personne. Comme si c'était primordial. Pourtant, Google ne fait que refléter ce que veulent savoir les gens. Et si on redéfinissait la notion d'héritage pour incorporer les idées, les valeurs, les principes et expériences qui permettent de mettre en lumière de nouvelles façons de voir les choses.
---
Références
00:12 — Introduction: quelle est l'idée derrière ce podcast?
03:47 — Sur les question de scaffolding (échafaudage) —
"Well, the first rule is that you can't really know anything if you just remember isolated facts and try and bang 'em back. If the facts don't hang together on a latticework of theory, you don't have them in a usable form. You've got to have models in your head. And you've got to array your experience, both vicarious and direct, on this latticework of models" — Charlie Munger, The psychology of human misjudgment
05:27 — Legacy et…la mort comme vecteur de changement
09:48 — "The bed on which you will breathe for the last time has already been manufactured" — David Whyte (Livre: The three marriages )
13:55 — Hardware, software, firmware
17:58 — Deux choses infinies: Love and knowledge
"Every generation our species distils the best of itself, packages it up and passes it on, shedding the dross and creating a fresher, newer, shinier generation. We have been doing this now for four billion years, and in doing so have transmogrified from unicellular microorganisms that do little more than cling to rocks and photosynthesize, to creatures of boundless energy and imagination who write poetry, make music, love each other and work hard to decipher the secrets of themselves and their universe." — Kate Jeffery, Edge question 2013: What should we be worried about?

"Only birth can conquer death — the birth, not of the old thing again, but of something new" — Joseph Campbell, The Hero with a thousand faces
18:12 — Hedonic treadmill (qui est essentiellement qu'une déformation du concept bouddhiste d'impermanence. —
"We seek pleasant sights, sounds, tastes, sensations, and moods. We satisfy our intellectual curiosity. We surround ourselves with friends and loved ones. We become connoisseurs of art, music, or food. But our pleasures are, by their very nature, fleeting. If we enjoy some great professional success, our feelings of accomplishment remain vivid and intoxicating for an hour, or perhaps a day, but then they subside. And the search goes on" — Sam Harris, Waking Up: A Guide to Spirituality Without Religion
18:43 — Patrick Collison / Ezra Klein (dont le 'net worth', justement, est de 9.5 milliards de dollars américains). Il a quand même envie de parler de l'épineuse question du progrès. — Collison (34 ans) est le fondateur, avec son frère John, de Stripe, la startup financière dont le modèle d'affaires repose sur le traitement des paiements en ligne).
19:40 — Kevin Kelly — 68 Bits of Unsolicited Advice et la suite, 99 Additional Bits of Unsolicited Advice
20:12 — Crisis of meaning — voir notamment John Vervaeke, Awakening from the meaning crisis. On reparlera aussi des problèmes de santé mentale et de complexité cognitive dans la série.
27:01 — Devoir — Il va falloir lire les notes du show!
28:16 — Legacy et "Héritage" — Google auto-complete "net worth"… ça fonctionne pour à peu près tout le monde
30:14 — David Brooks — Résumé virtues vs. Eulogy virtues
"It occurred to me that there were two sets of virtues, the résumé virtues and the eulogy virtues. The résumé virtues are the skills you bring to the marketplace. The eulogy virtues are the ones that are talked about at your funeral — whether you were kind, brave, honest or faithful. Were you capable of deep love?" NYT: *The Moral Bucket List.*
Du même auteur, voir aussi le livre The Road to Character (2015)
"We live in a culture that teaches us to promote and advertise ourselves and to master the skills required for success, but that gives little encouragement to humility, sympathy, and honest self-confrontation, which are necessary for building character"
(…)
"Occasionally, even today, you come across certain people who seem to possess an impressive inner cohesion. They are not leading fragmented, scattershot lives. They have achieved inner integration. They are calm, settled, and rooted. They are not blown off course by storms. They don't crumble in adversity. Their minds are consistent and their hearts are dependable. Their virtues are not the blooming virtues you see in smart college students; they are the ripening virtues you see in people who have lived a little and have learned from joy and pain"
38:10 — Jack Thomas — "I just learned I only have months to live. This is what I want to say"
"Atop the list of things I'll miss are the smiles and hugs every morning from my beautiful wife, Geraldine, the greatest blessing of my life. I hate the notion of an eternity without hearing laughter from my three children. And what about my 40 rose bushes? Who will nurture them? I cannot imagine an afterlife without the red of my America roses or the aroma of my yellow Julia Childs."
39:38 — Bronnie Ware, qui a écrit un simple billet sur Internet en 2009 relatant son expérience de huit ans comme aidante auprès de personnes en phase terminale, lequel a été largement circulé et est devenu un livre intitulé Top five regrets of the dying, énumère cinq principaux regrets:
I wish I'd had the courage to live a life true to myself, not the life others expected of me. (trad libre: avoir le courage de vivre une vie authentique, selon des principes développés plutôt qu'imposés de l'externe )

I wish I hadn't worked so hard. (ne pas avoir autant investi dans son travail—vraisemblablement au détriment d'autres expériences)

I wish I'd had the courage to express my feelings (avoir le courage d'exprimer ses sentiments — vulnérabilité)

I wish I had stayed in touch with my friends (être resté en contact plus étroit avec ses proches)

I wish that I had let myself be happier (s'être donné l'autorisation d'être heureux)
Crédit photo:
The dance of death: the death blow
. Coloured aquatint after T. Rowlandson, 1816. (Wellcome collection)