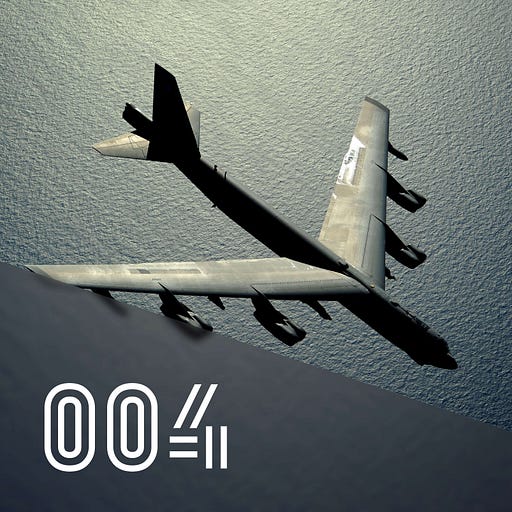 Nov 16, 2022 • 1HR 23M
004 — Archives [PAB]
Full Stack Banana est un nouveau podcast de conversations nourrissantes au carrefour de la philosophie et de la culture contemporaine. Au fil de réflexions parfois existentialistes mais absolument relax, on s'efforce de bâtir un modèle d'échafaudage pour la vie moderne.
Pain aux bananes, c'est la mise-à-jour de la semaine, un mélange plus ou moins approximatif de sujets qui ont piqué notre curiosité. Cuisiné chaque vendredi.
---
On parle de courage, de talent, de la saga Musk/Twitter, de technologies qui refusent de mourir et se transforment (B52 — pas le drink, le bombardier), de fast-fashion (Shein), de la CIA, de Mammouths et de Grizzlys. Rubrique disparition: Dietrich Mateschitz, fondateur de Redbull. Et d'autres onglets Chrome restés ouvert qu'on ferme astucieusement ensemble!
---
Références
02:30 — Obliquity — une idée qui essentiellement propose que certains objectifs sont parfois mieux accomplis de façon indirecte, sans nécessairement avoir l'intention de le faire. C'est une idée pertinente dans le domaine de l'innovation par exemple. Beaucoup, beaucoup d'innovations (j'oserais dire la plupart) on vu le jour de façon oblique (les Post-Its the 3M par exemple ou encore le Micro-Ondes). Voir le livre de John Kay qui s'intitule justement Obliquity
05:04 — Tyler Cowen et Daniel Gross. Livre Talent. Intéressant mélange entre Cowen, l'économiste polymath un peu vintage et Daniel Gross, l'entrepreneur et investisseur de capital de risque.
12:52 — Day in the life at Twitter (libs of tiktok)
15:07 — Missive des employés:
"We, the undersigned Twitter workers, believe the public conversation is in jeopardy."
17:13 — Marchés de prédiction — probabilité que 50% ou plus des employés soient congédiés d'ici avril 2023 est à 35% de chance sur manifold markets
18:53 — Overemployed
28:27 — La tension monte avec la question Taiwanaise; et le président Joe Biden impose de nouvelles séries de contrôle à l'exportation qui visent à restreindre les capacités de production de la chine en matière de micro-processeurs.
31:23 — Le FT rapportait: Les États-Unis vont déployer des bombardiers B-52 en Australie alors que les tensions avec la Chine montent (FT)
33:02 — NYT, 2015
"Trop démodé pour être un bombardier furtif, le B-52 est devenu le bombardier anti-furtif - un albatros bruyant, évident et menaçant."
35:54 — Steve Jobs archives (Laurene Powell Jobs, Tim Cook, Jony Ive, Bob Eiger) —NYT article
40:45 — Dietrich Mateschitz, créateur de l'empire Red Bull, mort à 78 ans
51:28 — A college wrestler fought a bear to save his teammate — and won (WaPo)
54:36 — Courage: Someone is getting the show tonight ou le film Force Majeure (2014)
58:37 — C.S. Lewis:
"Courage is not simply one of the virtues but the form of every virtue at the testing point, which means at the point of highest reality"
59:32 — Petits animaux de compagnie… pourquoi pas un mammouth (éteints depuis 10,000 ans) — Colossal Biosciences
01:00:06 — Le bras d'investissement de la CIA: In-Q-Tel (~300 compagnies)
01:01:25 — MicroAcquire, fondé en Janvier 2020 par Andrew Gazdecki
01:06:44 — Shein (la plus importante compagnie "fast fashion" que personne semble connaître…)
01:12:03 — Slavery Footprint
01:13:57 — Welcome to Wrexham