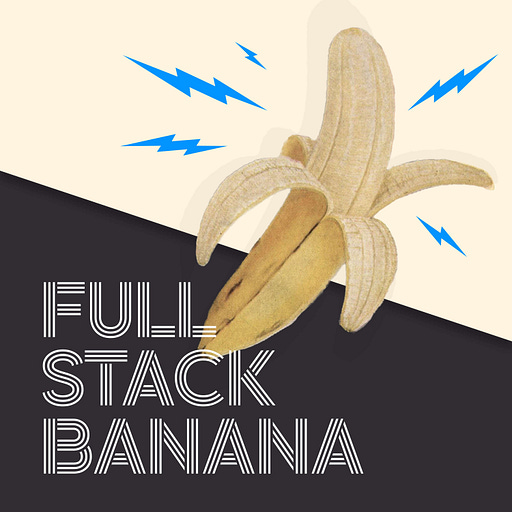 Nov 26, 2022 • 1HR 33M
007 — Mo money Mo problem [PAB]
Full Stack Banana est un nouveau podcast de conversations nourrissantes au carrefour de la philosophie et de la culture contemporaine. Au fil de réflexions parfois existentialistes mais absolument relax, on s'efforce de bâtir un modèle d'échafaudage pour la vie moderne.
On parle du vendredi fou et on se demande si on va un jour atteindre le point de saturation commercial. Ensuite, on discute FTX, FIFA et on mélange même le pauvre Bob Iger de Disney à ça, en scrutant la complexité géopolitique qui se cache derrière l'argent, et les dangers du syndrome de l'excuse.
La division Alexa d'Amazon perd beaucoup d'argent, qu'en va-t-il des promesses de l'IA et des autres promesses (parfois fabulatoires) de l'économie de la manigance?
Enfin, on invente un complot impliquant Birkenstock, du danger des paris sportifs et on se demande ce qui explique la renaissance des choux de Bruxelles.
---
Notes et références
[01:00] Intro — Vendredi 'fou': En moyenne, chaque Américain produit environ 75 livres de déchets textiles par an et une étude a révélé que les vêtements de mode rapide (fast-fashion) sont conçus de manière à ne pas durer plus de 10 fois d'usage. D'autres résistent:
[02:00] Singles day
[05:00] FTX: l'histoire continue de se développer.
[09:00] NYT "puff" media coverage : est-ce que les médias sont trop charitables à l'égard de SBF, pour des raisons narratives? Certains pensent que oui, d'où cette critique du NYT.
[11:00] Polyamory
[15:05] Jill Lepore dans le NewYorker: "The Case Against the Twitter Apology: Our twenty-first-century culture of performed remorse has become a sorry spectacle"
[17:00] "Balenciaga under fire over 'creepy' ads of kids with 'bondage outfits"
[24:00] Bob Iger retourne chez Disney et remplace Bob Chapek. L'année dernière, Walt Disney Co. a accordé à Bob Iger un contrat de 10 millions de dollars pour conseiller son successeur, Bob Chapek, alors que les deux dirigeants de la société de médias se parlaient à peine (FT).
[28:00] Gerontocracy
[30:00] FIFA uncovered (Netflix)
[32:00] "The world cup has always been about politics"
[35:00] FIFA: "The World Cup That Changed Everything : The decision to take the World Cup to Qatar has upturned a small nation, battered the reputation of global soccer's governing body and altered the fabric of the sport"
[36:00] Neom, transition énergétique et "world-building"
[41:00] Les travailleurs étrangers au Qatar représenteraient environ 88% de la population, dont les plus importants sont les Sud-Asiatiques, ceux de l'Inde à eux seuls étant estimés à environ 700 000 (Wikipedia). Près de 6500 travailleurs seraient morts dans la dernière décennie, sur des chantiers reliés à la tenu de la coupe du monde (Guardian).
[49:00] The best books for every age
[52:00] Le vestiaire de l'équipe du Japon après une victoire, ça ressemble à ça.
[1:00:00] Amazon Alexa: pertes anticipées de 10 milliards de dollars
[1:02:00] Scott Galloway "Google is God, Facebook is love and Uber is 'frat rock,' says brand strategy expert Scott Galloway" (2017)
When you start buying via Alexa you're effectively obviating or rending almost useless the billions of dollars and decades brands have spent on things like eye-level packaging. They can't even control pricing. A lot of people don't even hear the pricing or know the pricing when they order on Alexa, and Alexa's trying to build this confidence that if you buy it here it's even cheaper than on Amazon.
[1:05:00] Amazon voice: true or false?
[1:15:00] Campagne de Birkenstock et LVMH: Mo Money, Mo Problem
[1:20:00] Enquête sur les paris sportifs aux É-U. "After the Supreme Court opened the door to sports betting in 2018, lobbyists pushing for the legalization of online betting lavished state officials with gifts, parties and millions of dollars in donations, at times skirting campaign finance rules. Many lawmakers proved pliant."
Loteries: une industrie de 91 milliards de dollars aux É-U
Tout cela, répété tous les jours dans les épiceries, les magasins d'alcools et les mini-marchés à travers le pays, fait de la loterie une entreprise de quatre-vingt-onze milliards de dollars. "Les Américains dépensent plus en billets de loterie chaque année qu'en cigarettes, café ou smartphones", écrit Cohen, "et ils dépensent plus en billets de loterie chaque année qu'en services de streaming vidéo, billets de concert, livres et billets de cinéma combinés". (New Yorker: "What we've lost playing the lottery")
[1:23:00] Le jeu est l'une des principales causes de violence domestique dans le monde
[1:24:00] Pete Rose attends toujours…
[1:25:00] Alors que les forces de l'ordre américaines laissent SBF voguer dans le circuit des conférences, l'agence frontalière des États-Unis demeurent à pied d'œuvre. Cette semaine, ils ont fièrement annoncé qu'ils avaient saisi 33 000 dollars en espèces à un homme alors qu'il se rendait en Égypte. Le crime du gars : il a dit qu'il transportait 20 000 $.
[1:27:00] La renaissance des choux de Bruxelles