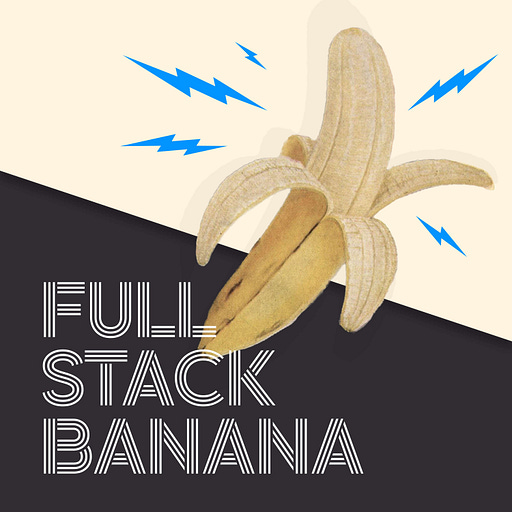 Nov 18, 2022 • 1HR 14M
005 — Keep it gank [PAB]
Full Stack Banana est un nouveau podcast de conversations nourrissantes au carrefour de la philosophie et de la culture contemporaine. Au fil de réflexions parfois existentialistes mais absolument relax, on s'efforce de bâtir un modèle d'échafaudage pour la vie moderne.
Cette semaine un épisode très "gank", où on fait le tour de la question FTX, de l'impact sur le mouvement EA (effective altruism), de Yogababble, sans oublier les sandales de Steve Jobs. On parle de "reality TV-style management", de Balaji et de son livre The Network State. Chronique scandale et controverse: les athlètes millionnaires d'Instagram. Rubrique disparation: Mehran Karimi Nasseri.
---
Références
→ 01:59 : Pour avoir une vue d'ensemble sur ce qui est convenu d'appeler le scandale FTX lire l'excellent recapitulatif de Zvi Mowshowitz ou encore le briefing de Samo Burja chez Bismark Analysis.
→ 05:32: "New Chief Calls FTX's Corporate Control a 'Complete Failure" — said John J. Ray III, who helped manage Enron after its collapse in an accounting fraud scandal in 2001 (17/11)
"Never in my career have I seen such a complete failure of corporate controls and such a complete absence of trustworthy financial information as occurred here. From compromised systems integrity and faulty regulatory oversight abroad, to the concentration of control in the hands of a very small group of inexperienced, unsophisticated and potentially compromised individuals, this situation is unprecedented"
→ 08:56 : Structure de FTX (via FT "Untangling the knotty empire of Bankman-Fried and FTX Relationship status: it's complicated " — 10/11)
→ 11:22 : Sequoia Capital: "Sam Bankman-Fried Has a Savior Complex—And Maybe You Should Too"
Suddenly, the chat window on Sequoia's side of the Zoom lights up with partners freaking out.

"I LOVE THIS FOUNDER," typed one partner.

"I am a 10 out of 10," pinged another. 

"YES!!!" exclaimed a third.

What Sequoia was reacting to was the scale of SBF's vision. It wasn't a story about how we might use fintech in the future, or crypto, or a new kind of bank. It was a vision about the future of money itself—with a total addressable market of every person on the entire planet.

"I sit ten feet from him, and I walked over, thinking, Oh, shit, that was really good," remembers Arora. "And it turns out that that fucker was playing League of Legends through the entire meeting."

"We were incredibly impressed," Bailhe says. "It was one of those your-hair-is-blown-back type of meetings." 

Not only that, Arora says, but League of Legends is the kind of multiplayer online battle arena video game where every four minutes or so of tactical maneuvering is punctuated by ten seconds of action known as a gank—gamer slang for "gang killing"—where you and your team gang up on an enemy. "There's a fight that happens, basically," says Arora, who was watching over SBF's shoulder as he answered that final question from Sequoia, "and I'm like, This guy is fucking in a gank!"
Gank?
→ 15:37 : Albany, c'est pas si pire finalement (même avec un coloc) (US3000/nuit)
→ 16:17 : J'ai mentionné ZVI et Samo d'entrée de jeu (voir plus haut)
→ 19:47 : The story is the product. Scott Galloway appelle ça le "yogababble index"
The boards of Theranos and WeWork included former and future Secretaries of Defense, Supreme Allied Commanders, and billionaire CEOs of iconic firms. These individuals can assess geopolitical markers, troop movements, and business trends better than anybody on the planet, maybe in history. But put a young woman from Stanford in a black turtleneck, or a guy with great hair, in the same room, and these global leaders couldn't recognize blatant fraud. 
→ 21:37 : Ah, Wework. Un joyau. Community-adjusted EBITDA, no less!
→ 23:27 : Effective Altruism et Will MacAskill's "What we owe the future".
→ 24:17 : One laptop per child ("OLPC's $100 laptop was going to change the world — then it all went wrong")
a flashy, clever, and idealistic project that shattered at its first brush with reality
→ 26:42 : Elon, Twitter, MacAskill, SBF (circa Mars 2017)
→ 31:51 : Quadriga ("A death in Cryptoland")
When reports emerged in 2019 that the CEO of Canada's largest cryptocurrency exchange had died, it left over a quarter of a billion dollars of customers' funds in limbo. While authorities investigated, one online sleuth decided to dig deeper to find the money.
→ 32:27 : Un podcast de 8 heures! —— Lex Fridman — #331 – Balaji Srinivasan: How to Fix Government, Twitter, Science, and the FDA
→ 33:37 : The Network State , le livre
→ 36:47 : Block Inc., le nouveau Square
→ 37:17 : Move Chris Dixon, Web 5 is coming. Ce qui me fait penser à cette pièce d'anthologie de The Onion (2004) "Fuck Everything, We're Doing Five Blades".
Would someone tell me how this happened? We were the fucking vanguard of shaving in this country. The Gillette Mach3 was the razor to own. Then the other guy came out with a three-blade razor. Were we scared? Hell, no. Because we hit back with a little thing called the Mach3Turbo. That's three blades and an aloe strip. For moisture. But you know what happened next? Shut up, I'm telling you what happened—the bastards went to four blades. Now we're standing around with our cocks in our hands, selling three blades and a strip. Moisture or no, suddenly we're the chumps. Well, fuck it. We're going to five blades.

Sure, we could go to four blades next, like the competition. That seems like the logical thing to do. After all, three worked out pretty well, and four is the next number after three. So let's play it safe. Let's make a thicker aloe strip and call it the Mach3SuperTurbo. Why innovate when we can follow? Oh, I know why: Because we're a business, that's why!

You think it's crazy? It is crazy. But I don't give a shit. From now on, we're the ones who have the edge in the multi-blade game. Are they the best a man can get? Fuck, no. Gillette is the best a man can get.
→ 40:27 : Jaron Lanier et le livre qui manquait à ma mémoire est "Who Owns the future"
The clamor for online attention only turns into money for a token minority of ordinary people, but there is another new, tiny class of people who always benefit. Those who keep the new ledgers, the giant computing services that model you, spy on you, and predict your actions, turn your life activities into the greatest fortunes in history. Those are concrete fortunes made of money.
→ 46:31 : Steve Jobs' old Birkenstocks sell for nearly $220,000
→ 47:48 : Sour Grapes
→ 49:53 : Twitter update — L'ère de la gestion "reality TV" style
"Bloomberg's reporting contains factual errors, and we dispute this story. Anyone who works with David knows his respect for women, and his long record of creating an inclusive and supportive environment for women," Goldman general counsel Kathryn Ruemmler said in a statement. The bank declined to comment further on what errors Ruemmler was referring to.
→ 58:57 : NYT: "New Endorsements for College Athletes Resurface an Old Concern: Sex Sells"
→ 1:01:57 : Shop Occasio Cortez!
→ 1:03:00 : Steelmanning
→ 1:03:31 : Mehran Karimi Nasseri, Who Inspired 'The Terminal,' Dies in Paris Airport
→ 1:05:42 : The active voice
→ 1:08:34 : 74% des américains souffrent d'obésité
→ 1:09:12 : 🍿 Ancient Apocalypse, The Crown, Stutz