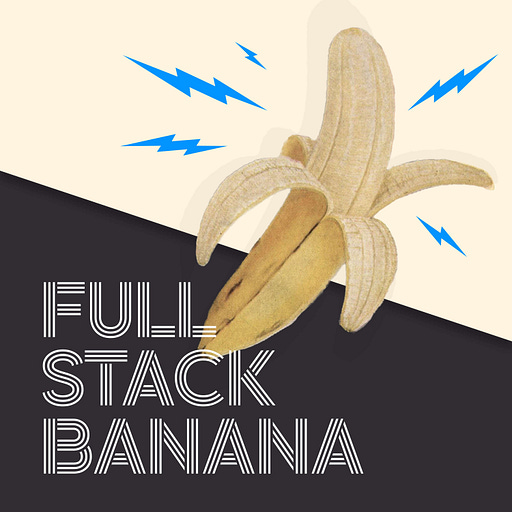 Nov 21, 2022 • 1HR 20M
006 — En dehors de la boite
Full Stack Banana est un nouveau podcast de conversations nourrissantes au carrefour de la philosophie et de la culture contemporaine. Au fil de réflexions parfois existentialistes mais absolument relax, on s'efforce de bâtir un modèle d'échafaudage pour la vie moderne.
La créativité est une caractéristique essentielle qui nous défini comme espèce car c'est un module qui nous a permis de nous représenter dans le temps et dans l'espace (qu'on pense par exemple aux scènes dépeintes à Lascaux) à travers l'idée de fiction, laquelle a pavé la voie à d'autres fictions utiles (argent, marchés, etc.). En entreprise, l'idée de créativité est devenue pas mal à la mode dans la dernière décennie avec comme archétype principal l'idée du brainstorm avec un mur rempli de Post It™ notes (des "idées"…lol). En effet, le marché des idées est en effervescence car qui dit créativité dit innovation, autre concept très prisé dans le monde corpo. Mais en quoi ça consiste exactement, la créativité?
---
Références
01:03 — Bling ring (et la série Netflix)
05:28 — Forget law school, these kids want to be a YouTube star
06:10 — Call my agent
09:14 — Who is Michael Ovitz? et l'agence CAA dont la liste de clients impressionne
12:25 — The Fifth Olympiad: the Official Report of the Olympic Games of Stockholm 1912
19:10 — David Deutsch.
"Today, the creativity that humans use to improve ideas is what pre-eminently sets us apart from other species."
22:40 — Mythe de la créativité #1 — la créativité est étrange, anormale, mystérieuse
23:37 — Mythe #2, la créativité sous l'angle processus — Thinking "outside" of the box
25:11 — le brainstorm
"If the icon of default thinking is the stopwatch, thinking outside the box is a celebration of the colored sticky note. Like ancient walls of cave paintings, the whiteboards filled with sticky notes telegraph to all observers that "something creative happened here."
26:28 — The Journey of Brainstorming and Alex Osborn (Le livre: Applied Imagination: Principles and Procedures of Creative Thinking, 1953)
31:57 — Mythe #4, les idées créatives surgissent de nulle part.
Sam Walton: "We were innovating, experimenting, and expanding. Somehow over the years, folks have gotten the impression that Wal-Mart was something I dreamed up out of the blue as a middle-aged man, and that it was just this great idea that turned into an overnight success. It's true that I was forty-four when we opened our first Wal-Mart in 1962, but the store was totally an outgrowth of everything we'd been doing since Newport—another case of me being unable to leave well enough alone, another experiment. And like most other overnight successes, it was about twenty years in the making (loc 639, dans le livre Made in America).
33:26 — Mythe #4 — La créativité implique des changements radicaux.
34:16 — Mythe #5 — La créativité c'est du fun!
35:36 — ReD Associates et Christian Madsbjerg
36:50 — Exploration vs. exploitation, give and take
39:31 — Helicopter parenting, snowplow parenting
"Helicopter parents were infamous in the early aughts for involving themselves in the minutiae of their children's lives, from diets free of GMOs to making sure they were first-chair violinists. But Dr. Michael Ungar, a Ph.D. in social work who specializes in what makes people resilient, says "snowplow parents" of the later millennials and Gen Zers are on a whole other level. They clear their children's boundless horizons of even the tiniest of obstacles—think dubious doctors' notes to get more time on the SAT."
39:52 — College admission scandal
40:03 — Alison Gopnik — The Gardener and the Carpenter: What the New Science of Child Development Tells Us About the Relationship Between Parents and Children
"Young brains are designed to explore; old brains are designed to exploit."
40:33 — Free range kids et Lenore Skenazy ("America's worst mom")
47:13 — Alison Gopnik
"Give a man a fish and he'll have fish for a day. Teach a man to fish and he'll have fish for a lifetime. Or you can leave the dude alone and he'll figure it out."
55:36 — Le processus créatif de David Lynch
58:17 — Sunk cost fallacy
The sunk cost fallacy is most dangerous when we have invested a lot of time, money, energy, or love in something. This investment becomes a reason to carry on, even if we are dealing with a lost cause. The more we invest, the greater the sunk costs are, and the greater the urge to continue becomes (Rolf Dobelli)
The end (Que sera, sera)
Suite!
01:04:15 — Dire Straits: l'origine de Sultans of swing (Mark Knopfler et Brian Jonhson)
01:11:44 — Les pièces de puzzle de David Lynch
01:13:00 — Journal — The artist's way morning pages (and 'mourning' pages) par Julia Cameron.
01:13:51 — More Dire Straits: Money for nothing, l'histoire du magasin d'électros à New-York
"We got to install microwave ovens, custom kitchen deliveries We got to move these refrigerators, we gotta move these color TVs" (source)
01:15:03 — Hair metal bands — oui
01:16:55 — Duran Duran The Man Who Stole a Leopard (et Snow Leopard, l'OS d'Apple)
"About the title | Answering questions on Mark Ronson's East Village Radio show [10 December 2010], Nick said that when the band put working titles on songs, they prefer not use something that will stick, because they don't want the name to influence the unwritten lyrics. However, "The Man Who Stole A Leopard" was the working title. They happened to be talking about the latest version of the Apple OS when someone asked, have you installed Leopard? Not hearing correctly, another person asked, "Somebody stole a leopard?" and they decided that was a great name for a song."