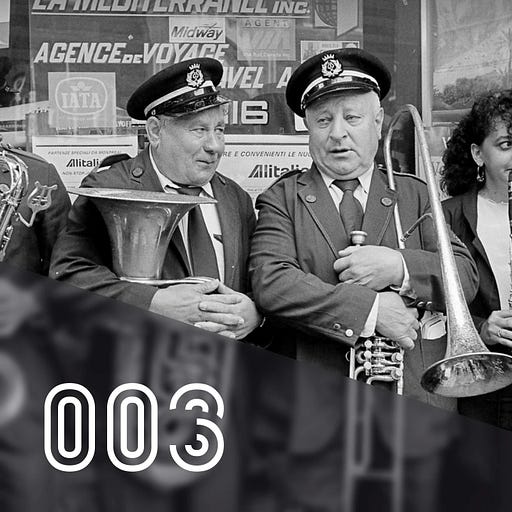 Nov 14, 2022 • 30M
003 — Cultiver son API
On explore l'idée d'API ("assume positive intent") et on se demande ce qui se passe quand on offre une interprétation plus charitable des intentions des autres.
Full Stack Banana est un nouveau podcast de conversations nourrissantes au carrefour de la philosophie et de la culture contemporaine. Au fil de réflexions parfois existentialistes mais absolument relax, on s'efforce de bâtir un modèle d'échafaudage pour la vie moderne.
Cultiver son "API" (acronyme de Assume Positive Intent, c'est-à-dire assumer que les autres ont des intentions positives derrière leur arguments, gestes, actions, etc.) ou le principe de charité, est un hack une béquille mentale utile à incorporer à ses façons de penser pour désamorcer la tendance naturelle qu'on peut avoir à juger les autres (et leurs idées) à travers une lentille adversariale. Un principe qui semble particulièrement utile en cette ère de grande polarisation.
---
Références
01:13 — Assume positive intent, Le principe de charité
"Le principe de charité, en gros, exige que nous essayions de trouver la meilleure - la plus raisonnable ou la plus plausible - (plutôt que la pire) interprétation possible de ce que nous lisons et entendons, c'est-à-dire de ce que les autres disent."
Voir aussi Hanlon's razor ("never attribute to malice that which is adequately explained by stupidity"). Voir aussi la discussion ici (Reddit) pour d'autres réflexions utiles incluant l'idée, au minimum, d'assumer neutre jusqu'à preuve du contraire.
20:02 — Straw-manning, steel-manning, and star-manning
25:51 — Colin Powell (1937 – 2021) — "I believe that when you first take over a new outfit, start out trusting the people there unless you have real evidence not to" — It worked for me: In life and leadership (hautement recommandé en version audiobook, lu par l'auteur)
---


Crédit photo: Jean-François Leblanc, tiré de l'excellent "
Portrait d'une fin de siècle
", photographie des années 80-90 à Montréal.