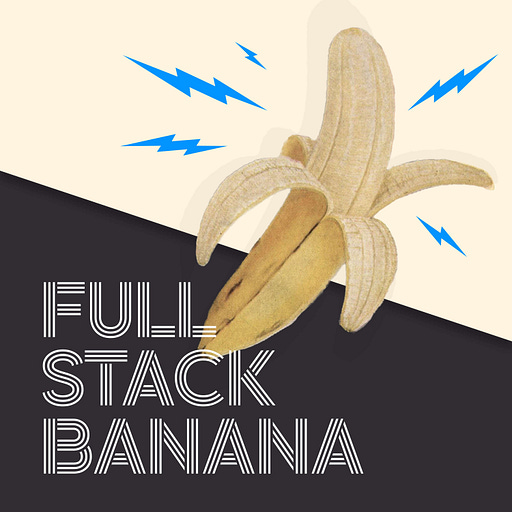 Mar 11 • 1HR 27M
026 — Odyssée pour une tasse de café [PAB]
Tout, partout, tout à la fois, c'est pas juste un film, c'est aussi notre mise-à-jour pain aux bananes de la semaine.
Full Stack Banana est un nouveau podcast de conversations nourrissantes au carrefour de la philosophie et de la culture contemporaine. Au fil de réflexions parfois existentialistes mais absolument relax, on s'efforce de bâtir un modèle d'échafaudage pour la vie moderne.
Cette semaine, le temps d'écran excessif pour les enfants et La fabrique du crétin digital de Michel Desmurget, mise à jour "lab leak hypothesis" et la normalisation de l'information. On discute du mystérieux syndrome de La Havane, ainsi que des récentes audiences sur Twitter files au Congrès. On fait aussi un bref détour dans le monde de LEGO et déplorons que même une simple tasse de café noir soit devenue si compliquée à obtenir. De plus, volte-face dans le port du masque à NY et les modèles commerciaux résistants à aux outils AI et enfin, que penser du succès de Everything, Everywhere All At Once, un film qui parle à une société aux prises avec l'incertitude de ses propres histoires.
---
Notes et références
[01:00] La Fabrique du Crétin Digital de Michel Desmurget via Screen Time Is Stolen Time (City Journal)
In their first two years, Desmurget shows, kids spend, on average, nearly 50 minutes daily on screens. Screen time reaches two hours and 45 minutes between the ages of two and eight, four hours and 45 minutes between the ages of eight and 12, and an astonishing seven hours and 15 minutes between the ages of 13 and 18. That represents 20 percent, 32 percent, and 45 percent of kids' waking time, respectively.
[08:00] Lab Leak Most Likely Origin of Covid-19 Pandemic, Energy Department Now Says. —— Sam Harris: A Conversation with Matt Ridley and Alina Chan
[16:00]  'Havana syndrome' not caused by energy weapon or foreign adversary, intelligence review finds.
[21:00] Twitter files devant le congrès (Matt Taibbi, Michael Shellenberger)
[25:00] "Fiasco" à la Société de l'assurance automobile du Québec (SAAQ)
[26:00] La désinformation qui tue… La Presse.
J'ai été renversée d'apprendre qu'en France, une personne sur quatre croit (à tort) que le virus a été créé en laboratoire. Chez les Américains, c'est environ 30 %.
[33:00] McBroken — Meet the 24-year-old who's tracking every broken McDonald's ice-cream machine in the US
[35:00] Chinese secret police, la suite
[41:00] LEGO — Revenues at world's largest toymaker increased 17% in 2022 while net profits rose 4% —— LEGO Kits and Your Creative Soul
Some people use LEGO to build creations of their wildest imaginations. Others meticulously recreate the picture on the back of the box. According to new research by business professors Page Moreau and Marit Gundersen Engset, there is a serious, meaningful, and potentially long-term difference between those who "free build," meaning they put the bricks together without a guide, and those who follow the instructions.
[47:00] Peak customization: Ticket for Coffee Shop Frustration: Ordering Black Coffee
"Asking for just 'coffee' with no added context, without going through a round of 20 questions with the server, has become impossible at this point" […]

"When you're waiting at Starbucks for your black coffee but the person before you ordered venti ice crisscross apple sauce double shot check engine oat milk diet coke macchiato with light triangle ice cubes"
[59:00] NYC Mayor Eric Adams is telling stores to have customers remove their face masks
[1:04:00] Walmart to close remaining Portland stores as crime-ridden city battles shoplifting wave
[1:00:00] D.C. carjackings rise for fifth straight year —— et —— DC poised to soften penalties for carjacking, other violent crimes, despite mayor's veto; finalement justement bloqué par le Président Biden.
[1:07:00] Teen Sentenced to Juvenile Detention for DC Carjacking That Killed Uber Eats Driver
[1:17:00] Bring a trailer — How One Guy's Car Blog Became a $1 Billion Marketplace
A hybrid of Craigslist, eBay, Reddit and Sotheby's that facilitated $1.37 billion in sales last year was not quite what Randy Nonnenberg had in mind when he started a car blog with a college buddy as a hobby. 
[1:23:00] Everything, everywhere… A pop-culture conceit balanced between entertainment and despair. Ross Douthat.
Those are journey movies, traditional narrative arcs with high stakes attached to every personal choice, every artistic gesture and fighter-jet maneuver. "Everything Everywhere" is a movie for a society much more unsure about the fundamental meaning of its stories, the real significance of human choices — and stuck hoping that a feeling held in defiance of one's reason, a vibe of hope and love, will be enough to keep us from the abyss.